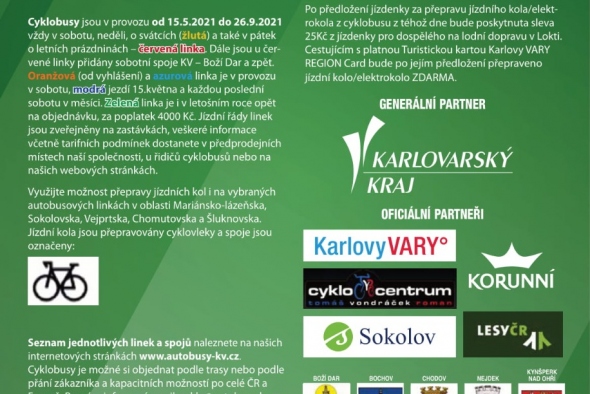 Dear friends of cycling,
this year, the bicycle transport will be in operation from 15 May to 26 September on weekends, public holidays and also on Fridays during the summer holidays on the red line (Ohře cycle path to the Ore Mountains) and again it is possible to export as a free bonus to Klínovec .
The driving time of the red line from Cheb to Klínovec is shortened by 20 minutes.
The orange line (Cheb and Vogtland to the Přebuz Nature Park) will be launched from the announcement, depending on the development of the overall situation in the Czech Republic and Germany. Therefore, follow the website https://www.autobusy-kv.cz/doprava-cyklodoprava.html or FB Autobusy Karlovy Vary, a.s.
Children and
students 6 - 26 years and
Seniors 65+ can use a 75% discount on the fare this year as well.
Passengers also have the opportunity to take advantage of the early booking of their seat thanks to the extended location for individuals and groups in the AMSBus system.
As every year, there will be a competition for a bicycle from the project partner of the Cyklocentrum bratří Vondráčky and the issuance of CykloEGRENSIS cards for the price of CZK 699 incl. VAT for the whole season, which still has many advantages:
Unlimited use of bicycle buses and free transport of bicycles / e-bikes
Discounts in selected restaurants
We wish you many happy kilometers with the wind at your back and we will be very happy for any possible sharing and dissemination.
odkaz